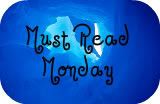 Must Read Monday is a new feature where I showcase a book or series that I highly recommend! Feel free to join by leaving your link in the comments or leave a comment with a book you recommend.
This week's feature is a new series I found via NetGalley-- Men Who Walk The Edge of Honor series by Lori Foster. The latest book, The Perfect Storm, is now available. But FIRST I wanted to read the rest of the books. Man am I glad I did. If you like mercenaries, mean guys, and a good romance mixed in then I must recommend you check these out.
A little tip for Nook and Kindle users -- the first three books are only $4.96 right now. It's a perfect time catch up on this series. A PERFECT STORM comes out May 27th.