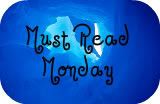 Must Read Monday is a new feature where I showcase a book or series that I highly recommend! Feel free to join by leaving your link in the comments or leave a comment with a book you recommend.
This week's recommendation--House Of Comarre by Kristen Painter-- is a gothic urban fantasy with an intricate world developed immediately in book one. I just read it while on vacation in Vegas and I've got to say I was really surprised by how much I enjoyed the book. So far there are three books published in the series, but according to Kristen's website two more are due out (one this year and one next). I can't wait to get home and get my hands on books two and three!
Did I mention the covers on these books are simply amazing! Find out more at Kristen's
website
and follower her on
Twitter
.