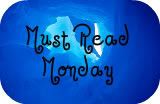 Must Read Monday is a new feature where I showcase a book or series that I highly recommend! Feel free to join by leaving your link in the comments or leave a comment with a book you recommend.
This week's Must Read Monday is a series that I wanted to share AFTER I read the final book in the trilogy. The SHADE trilogy is written by Jeri Smith-Ready. If you've followed my blog for any length of time you know how much I love Jeri and her writing. She knows how to invoke so much emotion from so few words, I'm amazed every single time I pick up one of her books. The final chapter in the SHADE trilogy comes out in May and I don't have the words to correctly describe the talent Jeri has or the superb way she ended the trilogy. So I will beg you to check it out.
Read my review of
SHADE
,
SHIFT
, and tomorrow I'll post my review of SHINE.